Ideas

This page is reserved for examples of great projects you can do with your materials.
I will be having monthly crafting contests with the winner receiving more crafting items!! YIPPEE!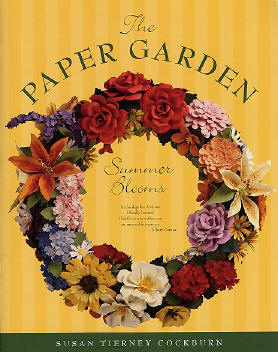 "Lily"

Below is a sample of part of a design in "Summer Blooms". As you can see, the book guides you, step by step, through the entire construction process. In addition to identifying the necessary punches and other tools, the book guides you through shape making, putting the flowers together right through to the completed project.

Paper: White paper, with yellow chalk embellishment.

Note: For a variation, use different punch sizes.

(1) USE the water brush and twinkling H20's to add shading down the center of the Lily. Let dry. Take the marker and "dot" over shading.

(2) Place the petals on a rubber mat and use the half-rounded end of the molding tool to shape.

(3) Use tweezers to pinch the small end of the Lily shape, transfer it to your other hand to maintain the pinch and hold while you bend the larger end. Place medium Snowflake on the rubber mat and use a large stylus to cup.

.../continued on page 13 of "Summer Blooms"...
Image Samples (click to enlarge)

Magnolia

Dahlia

Natural Leaves
Headline

Hours:

O P E N
O P E N
O P E N

We're here 24/7

It's going to be an exciting year! More items coming in every day.

If you don't see what you wish, be sure to ask, I am glad to special order items for you (and maybe carry them) just because YOU ASKED!

My warmest welcome to my customers....I'm so glad you stopped by. Be sure to grab a cookie as you shop....mine have no calories! :)

Would you like to open a web store? Don't get stuck with a solution that controls you. Ask and I'll direct you to an easy, fun and reasonable solution!